Disaster Management
Real-Time Disaster Data
People & Pet Rescue Assistance
Mobile App | Crowd Sourced
Citizen Focused – Initiative Driven
User Status & GPS Position
Situation Reports
Request Help, Give Help
Staging Areas & CP Locations
Post Emergencies
Analytics
Improved Logistics & Dispatching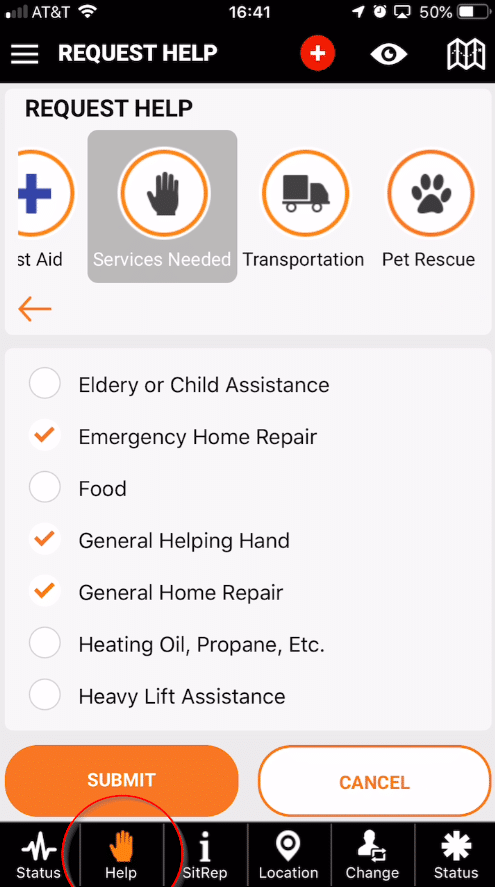 International Disaster Management Platform

When 911 is overwhelmed, chaos infects government communication and the first person that can render aid is a neighbour. Aftermath provides disaster communication across information silos. FEMA can only help so much and information management and communication are limited by people and government boundaries, until now.
The app can also be used for daily activities such as boating, hiking, camping, etc. By monitoring the app you can get help and give help to your fellow citizens.
Always call 911 first, then go give someone a hand.
Mobile App Data Collection
With recent disasters like Hurricanes Harvey in Texas, Irma in the US Virgin Islands, Puerto Rico and the Keys, the earthquake in Mexico, fires in the California, and the shooting in Las Vegas, it is clear communication and information sharing must improve and be available nationally and internationally to save lives.  People came together to help people, and save lives before emergency responders took control of the situation and on an ongoing basis. With the widespread damage caused by disasters, we have to turn to each other because our government simply does not have the resources.
Situation Reports
The Aftermath app connects people in need with those that want to help and emergency personnel (if they choose to use the data). It enables citizens to help neighbors two blocks over or come from New Orleans to Houston and help more effectively during times of reduced information or lack of direction from our government. It can also feed data to emergency operation center (EOCs) through situation reports (SitReps) for improved response and resource allocation and be used by organizations like the Red Cross.
Government agencies can see information being reported by citizens through situation reports (SitReps) or requests for help. This enables them to allocate the right resource, to the right area using real-time information.
The third component is support partners (SPs). SPs range from the Red Cross to a local church.
The Future of Disaster and Emergency Response is Here!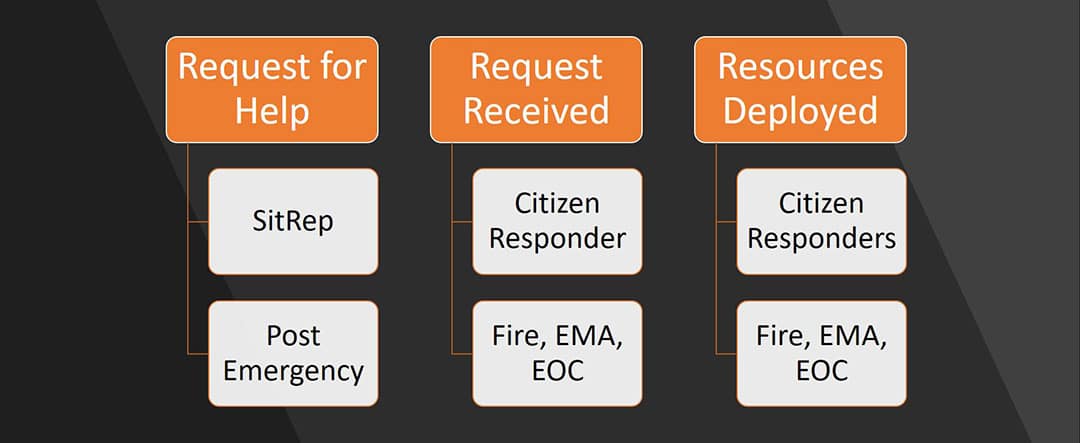 Although Aftermath is not directly connected or integrated with EOC and 911 services, we hope EOCs, FEMA, the Red Cross and others view the data to augment current data collection methods. We welcome the opportunity to discuss integration and other services with FEMA and other government agencies.
Simple, save lives.
Good, real-time information can save lives. The more people that use the service the more information that is being shared. This data is also critical to asset and resource allocation ranging from an individual with a chainsaw, to fire trucks, to the National Guard.
Keep the Aftermath app on your phone and up to date at all times. In today's world, you never know when you will be involved in a crisis and 911 is unresponsive. Facebook is great but it limits data to specific groups and friends. Aftermath is designed to be open to the public, protect your identity and bridge the data gap between people and organizations.
Users can simply spread the word on social media and share the "Aftermath Data" app before you need it, during and after an emergency or large-scale disaster. The more users, the better the data and the more people are helped.
Government agencies can request more information on data services and encourage people in the path of an event to download, share and use the app.
Join a Volunteer Organization & Use the App