Don't Think You Are Properly Insured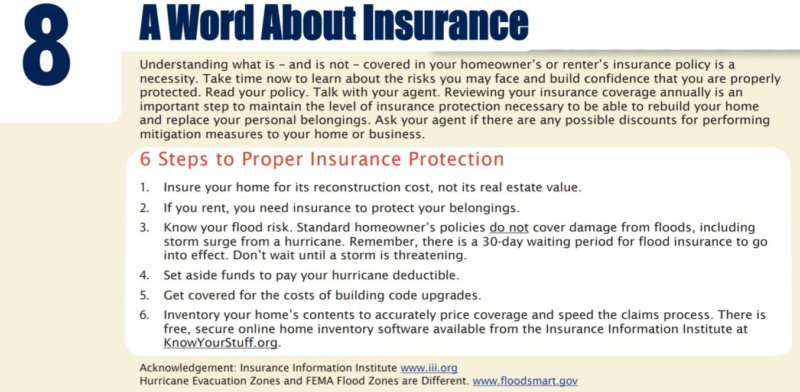 If things go bad you will be counting on your insurance to help you get back on your feet. If you do not have the right coverage you may be left paying a mortgage or car which has been destroyed. This would likely force you into bankruptcy and ruin your financial position for quite some time.
If you live in areas subject to hurricane damage it is extremely important to realize your standard homeowners insurance does not cover wind or water damage. This means if your windows blow out and your home is ruined you will not have any protection.
Meet with your insurance agent
As indicated in this series, the time to meet with your agent is well before a disaster hits. Go over the types of disasters in your area and talk about the coverage that covers you for these disasters. Have the agent show you in your policy where the protection is stated and the coverage financial limit. In Florida, insurance companies have quietly dropped customers in high-risk areas. These customers may not know they are not covered unless they talk to their agent.
If a disaster is looming don't expect to get an insurance policy. Insurance companies are wise to this approach and are not interested in losing money by writing a last-minute policy that is likely going to be needed.
Source: Pasco County, FL Disaster Planning Guide. www.tampabayprepares.org
Download planning guide here.
The PubSafe mobile app team (formerly the Aftermath Data mobile app) deployed to Nebraska to assist where needed utilizing the SherpATV. Using the app in a real flood highlighted some of the features needed for the app to be more effective. It did reiterate the need...
read more
First Time Volunteer - Things to Consider As a first-time volunteer out of my area for hurricane Florence, there were very clear lessons that may help you be more prepared if you want to get involved. As a Florida resident having survived several hurricanes...
read more