Don't Think You Are Properly Insured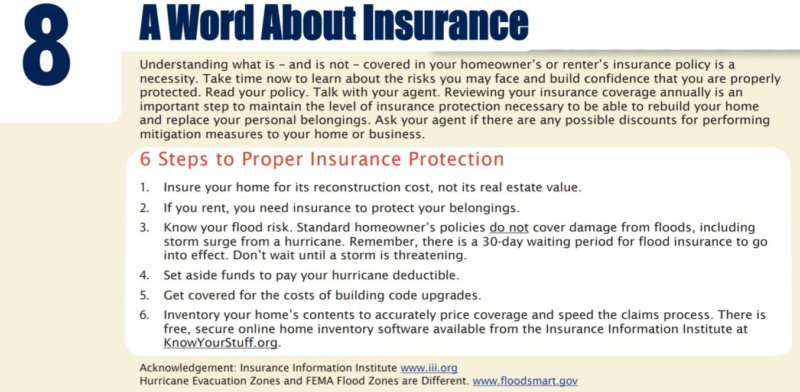 If things go bad you will be counting on your insurance to help you get back on your feet. If you do not have the right coverage you may be left paying a mortgage or car which has been destroyed. This would likely force you into bankruptcy and ruin your financial position for quite some time.
If you live in areas subject to hurricane damage it is extremely important to realize your standard homeowners insurance does not cover wind or water damage. This means if your windows blow out and your home is ruined you will not have any protection.
Meet with your insurance agent
As indicated in this series, the time to meet with your agent is well before a disaster hits. Go over the types of disasters in your area and talk about the coverage that covers you for these disasters. Have the agent show you in your policy where the protection is stated and the coverage financial limit. In Florida, insurance companies have quietly dropped customers in high-risk areas. These customers may not know they are not covered unless they talk to their agent.
If a disaster is looming don't expect to get an insurance policy. Insurance companies are wise to this approach and are not interested in losing money by writing a last-minute policy that is likely going to be needed.
Source: Pasco County, FL Disaster Planning Guide. www.tampabayprepares.org
Download planning guide here.
efficient asset allocation Most fleets have a GPS tracking and telematics platform like Fleetistics or Geotab which enables viewing the location of a vehicle on a map. This simple process can have a tremendous impact on the allocation of assets. If a fleet is not...
read more
OpenSource EV Charging Station Project During a disaster EV owners have to plan ahead due to limited charging station opportunities and the time it takes to recharge an electric vehicle. Rapid rechargers take 30 minutes and there may only be 1-2 charging...
read more